Why reputation management is your best retention strategy
Managing your online reputation matters not just to attract new guests, but to retain your existing ones. Here's how it impacts your customer loyalty.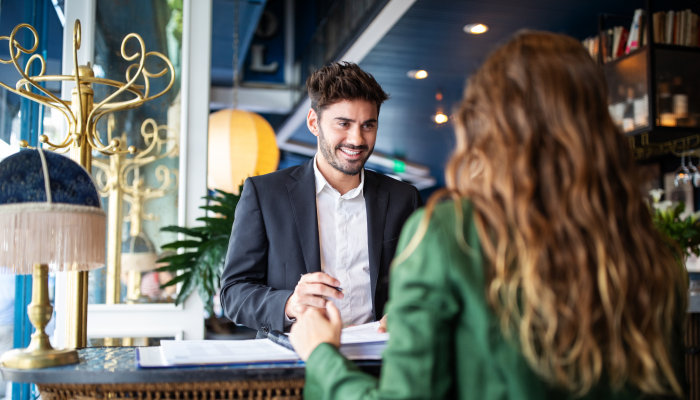 When someone stays at your property, you hope they feel at home…not just because you want them to have a phenomenal experience on their trip, but because you know that the better experience they have, the more likely they'll tell their friends and family (or leave a review on a site like Tripadvisor).
Whether you're a single hotel property or part of a larger hotel group, one of the most challenging aspects of managing a hotel is encouraging guests to come back again and again. Every traveler has a different philosophy on returning to a given place. They may visit your city often on business or be passing through on a once-in-a-lifetime vacation. They may be looking for the kind of resort they can return to and feel at home. 
While you can't control individual travel preferences, you can set your business up for success and customer loyalty by managing your online reputation effectively. Here's how:
||takey:insights_last_updated:20210720||
Understand how guests talk about your hotel
What kind of language do people use to talk about your hotel? What common themes emerge? You may be able to pick up on patterns of what people love about your hotel — and it's exactly these themes you can use to your advantage in your marketing materials, reminding past guests what they enjoyed about staying with you and enticing new ones with similar language.
||takey:insights_last_updated:20210720||
With

Tripadvisor Reputation Pro

, you can see a dashboard of common themes and sentiment across all of your review platforms, so you can discover what's driving
guest feedback.
You can also check out specific words and phrases that guests use when they talk about you in your reviews and on your Tripadvisor page under "Popular mentions." We'll surface up the most common aspects people comment on, like your location ("heart of Paris") or specific amenities they love ("rooftop bar").
||takey:insights_last_updated:20210720||
Use reviews to make your guest experience even better
The better the guest experience, the more likely they'll return.

When someone leaves a review, whether it's a 5-bubble or 3-bubble, they're providing feedback on your hospitality and your business. This same Reputation Pro dashboard can help you understand how to improve your guest experience, and what new amenities you may want to introduce. 

Take this 4-bubble review, for example. The guest obviously loved staying at this property in Paris, but had one small comment about what they would improve:
"Loved this cute little hotel right off Champs-Elysees. The staff took great care of me and on the first evening I received a welcome gift from the hotel! The decor is super chic. Minor con: the internet connection was very unstable. Overall, though, a lovely place close to everything."
The vast majority of Tripadvisor reviews are positive. In fact, the average bubble rating is 4.3 out of 5.0. Reviews like this one still show travelers how great your property is, but also give you insight into how to improve your services — in this case, the wifi connection.
||takey:insights_last_updated:20210720||
Responding to reviews builds a connection with your guests
Monitoring your reviews is a great first step with reputation management, but it's responding to reviews on sites like Tripadvisor that really build a connection with guests and make them remember your hospitality. Since guests don't usually leave reviews while they're still with you on the property, this is your moment to offer one last moment of great hospitality.
Here's how the management team responded to that same 4-bubble review mentioning the wifi above:
"Thank you very much for leaving us such a nice comment after your stay in our boutique hotel just a few steps from the Champs-Élysées. We are delighted that you enjoyed the service of our luxury hotel, its location, and your room. We are sorry that the internet connection was unstable, next time please do not hesitate to ask our staff, they will be happy to assist you. We look forward to seeing you again very soon in our establishment!"
This is a great example of a management response that encourages travelers to come back. When you look at responding to reviews, think about:
Thanking your most enthusiastic reviewers

Addressing the concerns and feedback of any negative reviews, allowing you to control the narrative

Inviting guests to return to your property in the future and let them know you can't wait to welcome them again
||takey:insights_last_updated:20210720||
Unlock the power of email marketing for past guests
Sometimes, the best way to get someone to return is to ask them! Collecting email addresses from your guests is a fantastic way to keep the conversation going, remind them of your property, and encourage them to book again. 
This could look like:
Automated thank-you email after they check out (with a link to leave a review, naturally!)

Regular one-off broadcasts with special events or deals going on at your property

Sending emails advertising sister or co-owned properties in other locations

Automatically sending an email six months after their stay to encourage them to come again the following year, especially if the guest stayed over a common vacation time (such as spring break or Valentine's Day)
Email marketing is a great way to keep your business top of mind, even if they don't plan on traveling soon. By reminding them of their wonderful stay, you're more likely to see them return in the future — or tell their friends.
Tripadvisor Reputation Pro helps you encourage customer loyalty
| | |
| --- | --- |
| | With Tripadvisor Reputation Pro, understand how your guests are talking about your property, respond to reviews quickly and easily, and get real-time review notifications so you can make sure to address comments and concerns as quickly as possible. Plus, you can lean on us to deliver automated review requests on your behalf, meeting your guest where they're at on text, email, or in the app. Learn more |
Reviews and responses have been lightly edited for clarity and brevity.
||takey:insights_last_updated:20210720||